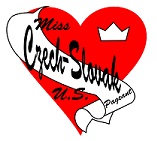 Miss Czech-Slovak US 2017-18


Madeline Hecker
Madeline is the 22-year-old daughter of Trey and Cecilia (Bartoš) Hecker of Prague, Oklahoma. She is proud to be one-half Czech through her maternal lineage. Her Bohemian and Moravian ancestry is rooted in the villages of Frenštát pod Radhoštěm in the Moravian-Silesian region, Petříkov in the South Bohemian region, Rožnov pod Radhoštěm in the Zlín region, and Radlice u Barchovic in the Kolín district.
​
Madeline will graduate in December of 2017 with her Bachelor of Arts in English from the University of Central Oklahoma. Afterward, she plans on attending the University of Texas at Austin to pursue her Ph.D. in English. She will postpone this academic journey until August of 2018 in order to focus her time and energy on traveling the country as Miss Czech-Slovak US.
​
Madeline loves absolutely everything about the Czech, Slovak, Silesian, and Rusyn cultures. Her involvement in the heritage includes, but is not limited to, folk and Beseda dancing for 17 years and baking over 1,000 dozen koláče each year with her family and church of St. Wenceslaus for 13 years.
​
The honor of Miss Czech-Slovak US 2017 is Madeline's fifth Czech-Slovak royalty title to hold. Since the age of 12, she has been representing her heritage and the Czech-Slovak cultures as an ambassador. Her previous titles include the 2007 Oklahoma Czech-Slovak Jr. Queen, the 2009 Prague Kolache Jr. Queen, the 2011 Prague Kolache Queen, and the 2016 Oklahoma Czech-Slovak Queen. She has traveled to five states and over 13,000 miles throughout the years, and she looks forward to traveling many more miles as Miss Czech-Slovak US. Representing her culture and state of Oklahoma in the Miss Czech-Slovak US Pageant was a lifelong dream of Madeline's, and she is ecstatic that she was bestowed this incredible honor.
​
Madeline modeled an Americanized kroj which celebrates the love, sacrifice, and courage of her Czech ancestors, while weaving in the handiwork of three generations: her grandmother, her mother, and herself. The kroj features authentic pieces as well as original folk designs on the blouse and handkerchief created and hand-drawn by Madeline and hand-embroidered by her mother. The most notable feature of her handmade kroj is her grandmother's white handkerchief with Madeline's designs and her mother's handiwork.
​
For her talent, Madeline performed an original medley of her favorite polkas and waltzes: The Beer Barrel Polka, The Prune Song, The Blue Skirt Waltz, and the Praha Polka. Madeline connected each of these songs to her family's musical background and history. The Blue Skirt Waltz was her late grandfather John's favorite song, and it was also the song that her parents danced to for their first dance at their wedding 36 years ago. She had family photos and her late grandfather John's violin next to her on stage.
​
Madeline's efforts enabled her to be awarded the Oratory Award, the Americanized Kroj Award, and the prestigious honor of Miss Czech-Slovak US 2017-2018. She is looking forward to the year of her life sharing and educating others on all that the Czech and Slovak cultures have to offer, and she hopes to instill in others a deep passion and love for their own personal heritage. She is incredibly grateful to all of the pageant sponsors and all of her family and friends for their support.