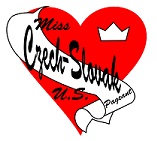 Miss Czech-Slovak US 2018-19


Janae Buckley
Janaé is the daughter of William and Janet (Čar) Buckley, and represented Nebraska at the 2018 Miss Czech-Slovak US Pageant. Her Czech-Slovak heritage includes Lučice in Bohemia, and Vlčnov, Kyjov, and Uherský Ostroh in Moravia.
​
Janaé is a student at Metropolitan Community College (MCC) in Omaha, Nebraska, where she is enrolled in the Fashion Design program. After she has earned her Associate in Applied Science at MCC, she plans to transfer to Creighton University to complete her Bachelor of Arts degree.
​
Janaé has represented her heritage as Czech-Slovak royalty since 2013, when she served as Czech-Slovak Queen for the town of Clarkson, Nebraska for 2014-15 and 2015-16. She then represented the Omaha Czech Cultural Club at the 2017 Miss Nebraska Czech-Slovak Queen Pageant, where she was crowned Miss Nebraska Czech-Slovak Queen for 2017-2018.
​
Janaé has been involved in her Czech and Slovak heritage for as long as she can remember. When she was 3 years old she learned how to make traditional Czech recipes with her grandmother and mother. Her grandmother and mother also taught her embroidery and needlepoint, since they believed in learning these skills at a very young age. Janaé's involvement in her culture deepened as a Czech-Slovak Queen representative, when she talked to Czech clubs from all over the state, former Czech Queens, kroj makers in Czech Republic, and family members and friends in the Czech Republic. She also volunteered in as many ways as possible, patterning and sewing the backdrops and curtains that proudly hang in the Czech-Slovak Museum and Educational Center in Omaha, Nebraska. Throughout these years, she has traveled over 10,000 miles to speak at various Czech festivals, dignitary events, and share her language and culture with everyone at multicultural events all over the region.
​
During the Miss Czech-Slovak US Pageant, Janaé modeled an original 1920's kroj from the village of Vlčnov. This family heirloom belongs to her mother, and needed considerable repair, as it had been damaged in storage over the years. It was also missing the elaborate headpiece, which Janaé had to recreate from scratch. After intense research and discussions with kroj makers, Janaé learned how to re-pleat the blouse, starch bobbin lace, and restore vintage textiles to bring the "big red kroj," that she heard so much about, back to life. Her efforts resulted in the award for Best Authentic Kroj.
​
For her talent, Janaé performed a ballet dance that she choreographed herself to honor two famous Czech artists. The first is Zora Semberova, a Czech ballerina who was the first to dance the role of Juliet in the famous ballet Romeo and Juliet, which premiered in Czechoslovakia in 1938. The second artist is composer Antonín Dvoržák, whose Romance in F Minor, Opus 11, Janaé chose to highlight the romantic theme of the play, because she loved the song as a little girl. Roses played a prominent part in Janaé's talent, representing romance, the famously referenced flower in the play, as well as the original family name "Ružička,", meaning "little rose." Showcasing Janaé's creative talents were the costume which she designed and sewed, and the balcony she built and painted by hand as a stage prop for her community service production of Romeo and Juliet, in which she played Juliet. In memory of those who inspired her, Janaé also had on stage her family's heirloom pointe shoes, and her great-aunt's floral-themed embroidery and crochet work, to honor many generations of creative seamstresses. Finally, the table was adorned with, of course, a vase of roses. This talent earned Janaé the Sokol Award at the pageant and the Talent Runner-Up Award.
​
Janaé is deeply honored to have been chosen as Miss Czech-Slovak United States 2018-2019, and is grateful to her family, friends, and all the pageant sponsors who have made this possible. She will dedicate this year as cultural ambassador to sharing our rich Czech and Slovak heritage with as many people as possible. Cultural preservation is Janaé's life goal, and thanks to the Miss Czech-Slovak US Pageant, she now has a platform to share this passion with the world.