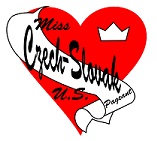 Miss Czech-Slovak US 2018-19


Janae Buckley
Miss Czech-Slovak US 2018-19 Janae Buckley has had a very busy reign so far! Janae has traveled to festivals and events in West, Texas, Kansas City, Missouri, Lemont, Illinois, and Yukon, Oklahoma. She has also attended many Czech-Slovak festivals and multicultural events closer to home. In her spare time, Janae has continued her work on designing, sewing, restoring and completing kroje.

Over the holiday season, Janae upheld many Czech traditions and customs, such as baking Kolache, Rozeta and Vanilkove Rohlicky, and decorated her Christmas tree with Czech ornaments.

With festival season coming up, Janae is looking forward to attending as many events as possible and sharing her passion for the Czech and Slovak cultures. She has heard wonderful things about the Czech-Slovak Royalty coronations, multicultural events and Czech-Slovak festivals taking place in the coming months. A few of these are located in Texas, Nebraska and Minnesota.

Janae plans on continuing her work with kroje with the goal of using them to inspire others to become interested in learning their family heritage. Janae would like to thank everyone for all the wonderful opportunities and experiences so far.