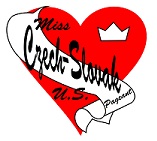 Miss Czech-Slovak US


State Pageants
Iowa, Kansas, Minnesota, Missouri, Nebraska, Oklahoma, South Dakota, Texas, and Wisconsin have state pageants.




UPCOMING PAGEANTS

​The Oklahoma Pageant will be held September 2022 in Yukon, OK.

The Minnesota Pageant will is TBA in Montgomery, MN. ​
​
​The Texas Pageant will be April 23, 2022 in West, Texas.

The Iowa Pageant will be held May 21, 2022 in Cedar Rapids, IA.

The Missouri Pageant date is TBD in Sugar Creek, MO.​

​​The South Dakota Pageant will be held June 17-18, 2022 in Tabor, SD.

The Wisconsin Pageant will is June 18, 2022 in Phillips, WI.

The Nebraska Pageant will be held June 25, 2022 in Clarkson, NE.

The Kansas Pageant will be held July 30, 2022 in Wilson, KS. ​​


2021-2022 State Queens
​

​Nebraska: Cecilia Minchow


​Texas: Madison Murphy

Missouri: Monica Pechous​​

Oklahoma: Anna Sedivy-Thompson​​
Kansas: Jessica Wonderlich

​
​​