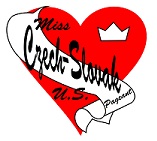 Queen


Morgan McMichen - Missouri​


1st Runner Up
Christiana Gentry - Texas


2nd Runner Up


Elena Peerson - Illinois


Grand Talent


Christiana Gentry


Talent Runner Up


Elena Peerson


Authentic Kroj


Morgan McMichen


Americanized Kroj


Kalli Williams - Oklahoma
​

Oratory Award


Morgan McMichen


Spirit of the Czech and Slovak Heritage Award


Mariah Kostal - South Dakota


Heritage Involvement Award


Janna Waters - Iowa


Miss Congeniality




Stacy Pospisil - Nebraska


Sokol Award


Elena Peerson

​

Contestants
​Jessica Brockway - Kansas
Alanna Burkart - Wisconsin
Corbin Jerde - Minnesota
Nicole Meadows - Georgia



Morgan McMichen, representing Missouri, of Kansas City, MO was crowned the 2014-15 Miss Czech-Slovak US Queen, she is the first Missouri queen to wear the national crown. She also was awarded the Authentic Kroj and Oratory. She was also awarded a special educational scholarship donated by Dr. Cecelia Rokusek, Slovak Honorary Consul of Florida. Dr. Rokusek dedicates this scholarship to her parents John and Alicia "Fiala" Rokusek.

​Christiana Gentry representing Texas of Humble, Texas was crowned the 2014 1st Runner-Up. Christiana also received the Grand Talent Award..

​Elena Peerson, representing Illinois of Wheaton, Illinois was crowned 2014 2nd Runner-Up as well as Talent Runner-Up and Sokol Award. .

​Kalli Williams, representing Oklahoma of Prague, Oklahoma was awarded the Americanized Kroj Award.

​Mariah Kostal, representing South Dakota of Tyndall, South Dakota was awarded the Lois Fiala Spirit of the Czech/Slovak Heritage Award. This award is presented to the contestant who exhibits outstanding passion and dedication to her heritage.

​Janna Waters, representing Iowa, of Iowa City, Iowa was awarded the Heritage Involvement Award. This award is presented to the contestant whom exhibits outstanding involvement as presented on her application.

​Stacy Pospisil, representing Nebraska, of Hallam, Nebraska was award Miss Congeniality. This award is voted on by her fellow pageant contestants.
The pageant also had four additional outstanding contestants: Jessica Brockway, representing Kansas of Salina, KS; Alanna Burkart, representing Wisconsin of Phillips, WI; Corbin Jerde representing Minnesota of Golden Valley, MN; and Nicole Meadows, representing Georgia of Decatur, GA
.