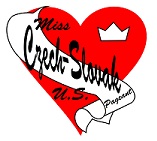 Welcome to the
​Miss Czech-Slovak US Homepage!
Follow the Miss Czech-Slovak US Pageant on Facebook and Instagram!
If you would like to have our Royal Court at your event, please send us a request at the "Contact Us" page!

Are you age 16-26, single, female and excited to preserve our great heritage?
​​
Click "Pageant Documents" for official rules and application​​
​​Join us for the next
​Miss Czech-Slovak US Pageant on August 3 and 4, 2024 at 7 pm in Wilber, NE where we will crown the next
​Miss Czech-Slovak US
From Left to Right:
Hannah Andringa

, Kansas

Sarah Holicky,

Minnesota - Kroj - Poise and John and Lois Fiala Spirit Award

Amanda Kadlecek

, Wisconsin -Grand Talent, Bozena Award and Gruntorad-Stastny Heritage Award, ​

Lauren Luchetti

,

Illinois - ​2nd Runner-Up,

Destiny Hollingsworth,

Texas National Queen, Oratory Award, Kroj- Knowledge, Talent Runner-Up

Drew Hejna

, South Dakota - 1st Runner-Up, Miss Congeniality

Abigail Manners

, Missouri
​

Jayden Mason,

Oklahoma - Kroj - Accuracy, Kroj - Family Story, Cultural Preservation Award​ and Sokol Talent Award

Greta Rosno

, Nebraska - Sokol Talent Runner-Up
Congratulations
Destiny Hollingsworth
​​Miss Czech-Slovak US 2023-2024
For full results please click here​
​

Our vision is to establish the Miss Czech-Slovak US Pageant as the premier platform for young women of Czech, Moravian, Silesian and Slovak descent to showcase their talents, leadership, and cultural pride. We aspire to create an environment that empowers participants to grow personally and professionally, while also strengthening ties within our community. Together, we strive to preserve and celebrate our heritage, fostering a vibrant and united community where our cultural heritage is cherished and our traditions are passed down through generations.