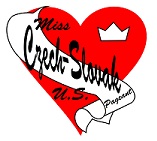 Queen


Madeline Hecker - Oklahoma


1st Runner Up
Emily Manning - Missouri


2nd Runner Up


Sara Vytlacil - Kansas


Grand Talent


Bailey Gare - Minnesota


Talent Runner Up


Emily Manning


Authentic Kroj


Sara Vytlacil


Americanized Kroj


Madeline Hecker
​

Oratory Award


Madeline Hecker


Lois Fiala Spirit Award


Morgan Rothschadl - South Dakota


Heritage Involvement Award


Linda Babinat - Iowa


Miss Congeniality


Laura Chemler - Illinois


Sokol Award


Abi Kaliska - Wisconsin
Sokol Runner-Up


Sara Vytlacil
Outstanding Contestants
Brianna Blattman - Texas
Miranda Zitek - Nebraska ​




Madeline Hecker, representing Oklahoma, of Prague, OK was crowned the 2017-18 Miss Czech-Slovak US Queen, she is the third Oklahoma queen to wear the national crown. She also was awarded the Americanized Kroj Award, and Oratory Award. She was received a special educational scholarship donated by Dr. Cecelia Rokusek, Slovak Honorary Consul of Florida. Dr. Rokusek dedicates this scholarship to her parents John and Alicia "Fiala" Rokusek.
​
Emily Manning, representing Missouri of Columbia, MO was crowned the 2017 1st Runner-Up. Emily also received the Talent Runner-Up Award.
​
Sara Vytlacil, representing Kansas of Belleville, KS was crowned 2017 2nd Runner-Up as well as receiving the Authentic Kroj Award and Sokol Runner-Up Award.
​
Bailey Gare, representing Minnesota of Montgomery, MN was awarded the Grand Talent Award for her musical skit.
​
Morgan Rothschadl, representing South Dakota of Tabor, SD was awarded the Lois Fiala Spirit of the Czech/Slovak Heritage Award. This award is presented to the contestant who exhibits outstanding passion and dedication to her heritage.
​
Linda Babinat, representing Iowa, of Clutier, IA was awarded the Heritage Involvement Award. This award is presented to the contestant whom exhibits outstanding involvement as presented on her application.
​
Laura Chemler, representing Illinois of Naperville, IA was awarded Miss Congeniality. This award is voted on by her fellow pageant contestants.
Abi Kaliska, representing Wisconsin of Phillps, WI was awarded the Sokol Award for the most Sokol-like talent.

The pageant also had two additional outstanding contestants Brianna Blattman, representing Texas of China Spring, TX and Miranda Zitek, representing Nebraska of Lincoln, NE.