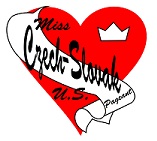 Queen


Michaela Steager - Nebraska


1st Runner Up
Anna O'Renick - Missouri


2nd Runner Up


Ashley Pudil - Iowa


Grand Talent


Michaela Steager


Talent Runner Up


Monica Holmes - Oklahoma


Authentic Kroj


Monika Cavanagh - Texas


Americanized Kroj


Micheala Steager
​

Oratory Award


Michaela Steager


Lois Fiala Spirit Award


Madison Dangler - South Dakota


Heritage Involvement Award


Melissa Klimowski - Wisconsin


Miss Congeniality




Anna O'Renick


Sokol Award
Ashley Pudil
Sokol Runner-Up


Lara Brockway - Kansas​
Outstanding Contestants


Alexa Turgeon - Minnesota





​Michaela Steager, representing Nebraska, of Fremont, NE was crowned the 2016-17 Miss Czech-Slovak US Queen, she is the eighth Nebraska queen to wear the national crown. She also was awarded the Grand Talent Award, Americanized Kroj Award, and Oratory Award. She was received a special educational scholarship donated by Dr. Cecelia Rokusek, Slovak Honorary Consul of Florida. Dr. Rokusek dedicates this scholarship to her parents John and Alicia "Fiala" Rokusek.
​
Anna O'Renick, representing Missouri of Sugar Creek, MO was crowned the 2015 1st Runner-Up. Anna was also awarded Miss Congeniality. This award is voted on by her fellow pageant contestants.
​
Ashley Pudil, representing Iowa of Cedar Rapids, IA was crowned 2015 2nd Runner-Up as well as the Sokol Award.
​
Monica Holmes, representing Oklahoma of Edmond, OK was awarded the Talent Runner-Up Award.
​
Monika Cavanagh, representing Texas of Killeen, TX was awarded the Authentic Kroj Award.
​
Madison Dangler, representing South Dakota of Yankton, SD was awarded the Lois Fiala Spirit of the Czech/Slovak Heritage Award. This award is presented to the contestant who exhibits outstanding passion and dedication to her heritage.
​
Melissa Klimowski, representing Wisconsin, of Phillips, WI was awarded the Heritage Involvement Award. This award is presented to the contestant whom exhibits outstanding involvement as presented on her application.
​
Lara Brockway, representing Kansas of Salina, KS was awarded the Sokol Runner-Up Award.
​
The pageant also had an additional outstanding contestant Alexa Turgeon representing Minnesota of Lonsdale, MN.