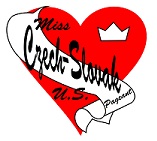 Queen


Edith Lazar, Illinois


1st Runner Up


Melanie Zavodny, Texas


2nd Runner Up


Tamara Chadima, Iowa


Talent


Lisa Minarik, Michigan


Kroj Award


Traci Crofford, Oklahoma


Miss Congeniality


Traci Crofford, Oklahoma


Contestants


Angie Kostal, South Dakota
Ann Mladek, Minnesota
Gretchen Mills, Nebraska
Christina Ptacek, Kansas
Emily Rowley, Nebraska
Anna Skladany, Pennsylvania
Elizabeth Vondracek, Kansas
Edita Lazar, Illinois Czech Queen, was crowned the 1995-96 Miss Czech-Slovak USA Queen. She attends Moraine Valley community college and then the University of Illinois to earn a degree in Business and Marketing. She is the daughter of Miroslav and Cecelia Lazar. First runner up was Melanie Zavodny, Texas and 2nd runnerup was Tamara Chadima, Iowa. Talent winner was Lisa Minarck, Michigan. Traci Crofford, Oklahoma was the costume winner and Miss Congeniality.

In 1995, Edita Lazar received an emergency call to return home, she wasn't present when her name was announced as the 1995-96 queen. So in September of 1995, the title was presented to Edita in Chicago, IL by John Fiala at which time Edita's pageant Little Sister and family traveled to Chicago for the presentation.

Judges:



Bell Rezny – California

Zdenka Drdla-Wiltse – Nebraska

James Travnicek – Nebraska

Lila Klasek – Illinois